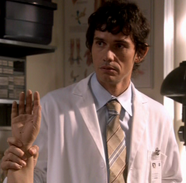 Brian Moser, (born 1968 or 1969 - 2006) also know under the pseudonym Rudy Cooper, was a prosthetic surgeon and a serial killer, commonly referred to as the Ice Truck Killer.
After witnessing the brutal murder of his mother, Laura Moser, at an early age, Brain was completely traumatized by the experience and as a result became a violent sociopath. Growing up at a mental facility in Tampa Bay, Brain left at age 21 to explore the world, while masking his true nature in public.
In 1998, after murdering a man known as Rudy Cooper and assuming his identity, Brain chose a career in prosthetics, and, in 2006, began using his knowledge of the human body to murder prostitutes, leaving cryptic messages at each crime scene.